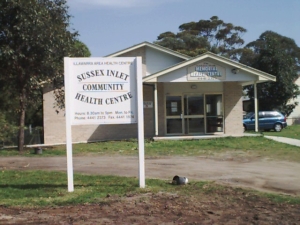 Community Health Centre
The Foundation was commenced in 1976 by local citizens
Ron Neeves, John Pollett, Norm Doyle, Ida Mahoney and Jan Taylor.
After formation Dr. Max Daiment of the Illawarra Health Service offered the group the use of our current building as a Community Centre. The building was originally the old R.S.L. Bowling Club club house, with the present car park and Community Health Centre now being located on what was the actual bowling green. In those days the nurses provided Health services from Bendalong to the Basin.
With the arrival in town in the 1980's of Dr. Bill Corliss and his wife Marjorie, services were expanded and the name the Foundation for Community Development was invoked.
Bill Corliss wanted homecare and palliative services provided so that people could retain their independence at home. He led a team which provided such care resulting, in 2003, in the Foundation receiving funds from the estate of the late Lachlan Poole which were the monies used to build the new Community Health Centre and refurbish the interior of the old Bowling Club building.
Recently we joined the Chamber of Commerce to give a community perspective to commercial ambition.
Our combined transport support group with the Tasman RSL Clubs and Inasmuch gives us the scope to deal with an increasing demand on our services. An ever increasing population is stretching all support services to the limit.