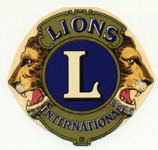 Sussex Inlet & District - Lions Club
Contacts
Committee for 2018/2019 year.
President - Laurie Stretton
1st Vice President - Lynda Clott
Club Secretary - Janet Lembach
Treasurer - Barbara Webster
Directors - Wendy Harris, Keith Harris, Eric Deveney, Liz Hamilton
History
In February 1975 the Nowra Lions Club President, Jack Wiley asked their Charter President Gordon Cook to investigate and form a Lions Club at Sussex Inlet.
On the 10 th April 17 local men 6 Nowra Lions and 3 district officers attended a meeting with Lion Gordon at the Sussex Inlet R.S.L. Club
At this meeting it was resolved that a Lions Club be formed in Sussex Inlet 16 Lions were inducted with their badges that night and Bob Nixon was elected as the first President.
| | | | |
| --- | --- | --- | --- |
| President | Bob Nixon | 1st Vice President | Bert Caddy |
| 2nd Vice President | Ross Westley | 3rd Vice President | Russ Murray |
| Secretary | Kevin Ryan | Treasurer | Allan Williams |
| Tail Twister | Ron Benham | Lion Tamer | Bryan Hallas |
| Director 2 years | Graham Williams | Director 2 years | Barry Bowman |
| Director | Leigh Bowman | Director | Ken Wiggins |
The above Committee was to become the The Charter committee for the Sussex Inlet Lions Club later to be changed to The Sussex Inlet and District Lions Club as it is today
The Sussex Inlet and District Lions Club was Officially Charted on the 15 th August 1975 at the Sussex Inlet RSL Club Jacobs Drive Sussex Inlet with 27 members on the charter
The official charter night was to have been June 23 rd 1975 but due to flooding of Cow Creek a new date had to be arranged that date to be August 15 th 1975
Lion Gordon Cook was appointed as Extension Chairman and had a major impact on the club in its early days Sussex Inlet has always been a laid back easy going kind of place Gordon insisted that tie and coat be worn at dinner meetings One of the side effects of this was that one of the members who wore rubber boots when working and thongs the rest of the time had to go out and buy a pair of shoes
Gordon would have preferred that the meeting be conducted without alcohol. He was assured that it would not work-not in Sussex Gordon just gave up and shook his head. He had got the members into ties and suits but their beer was something else
Many fund raising activities have been undertaken by the Lions to raise funds for the district
On looking around the Town of Sussex Inlet the Lions efforts can be seen in:-
Lions Park - Sussex Inlet South.
Peace Park - signifying 50th Anniversary of Peace in the Pacific.
Remembrance Seating around the foreshore of the Inlet.
Plus
the many other projects which are not so conspicuous such as:-
Country Fair yearly on October long-weekend.
Youth Exchange Program with Lions International.
Dialysis Foundation - Red Kidney Bus - Lions International.
In the twenty years of Lions involvement in Sussex Inlet the Sussex Inlet District Lions Club have distributed over $250,000.00. The Club is alive and well with a current membership of 25 dinner meetings are lively and well attended as are their social events.

For further information please phone Wendy Harris 02 4441 1775