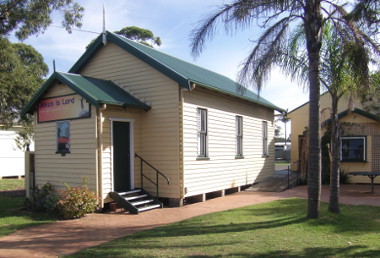 In its present form the church has been incorporated since 2007 and renamed as the Community Church, ie the original name given to the building in the 1940s. Due to its location and being the first church established in Sussex Inlet it is referred to by the locals as the town church.
Services
Sunday service is held weekly commencing at 9.30 am and Prayer groups meet on Tuesday and Wednesday mornings at 8.00am and 11.00 am respectively. In addition a bible study group meet on Wednesday evenings at 7.00 pm in the hall.
Wednesday Lunch
Wednesday in the hall we have an OPEN DOOR lunch and anyone may attend for a light meal and good company ALL WELCOME.
Thursday, Kids and Mums
Thursday from 10.00 am a Kids and Mums group meet in the hall and again any mother or mothers with children are always welcome. Various community groups are also welcome to use the facilities.